The list of Trey's firsts continues to grow. Last night he was treated to his first haircut. Kim made an appointment at Kids Kuts in the Hyde Park Shopping Center. I missed the first couple snips but arrived to find Kim and Trey still sitting in the chair getting more hair chopped off.
Trey did really well and sat in Kim's lap the whole time without throwing too many things. The toys that they had available really  helped, and of course he really liked the one that was the most awkward to hold up for him. The stylist did a great job with our little moving target. Trey really looks like a kid now that he has a fancy haircut.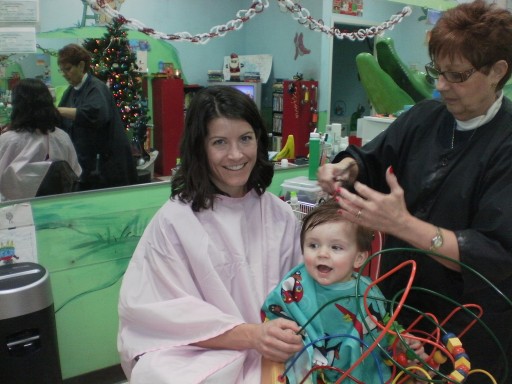 And if you haven't already seen the photo on my blog, Trey had his first picture with Santa this past weekend. We were at a Cyclones game and heard on the loudspeaker that Santa was in the arena and taking photos. I walked over and tried to get Trey's picture with just him and Santa, but he freaked out once I let go of him. Instead of trying again, I just got in the picture with him.